Home
Talk

2
76pages on
this wiki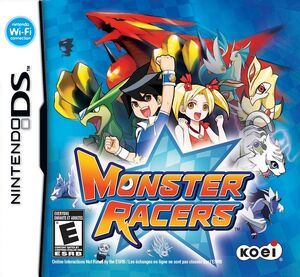 Welcome to Monster Racers Wiki!
Please feel free to contribute to this wiki if you have any information on the monsters.
Pictures are welcome too, especially screenshots of the maps if anyone has any.
Exotic monster screenshots are needed as well. Any pages you wish to add about breeding or anything you feel is helpful is important is welcome.

About The Game
Edit
In Monster Racers, players will embark on a quest that will take them around the globe in search of monster breeds to train, nurture and race. Throughout their journeys, players will build lasting friendships with new allies, and encounter daunting challenges from a bevy of rival trainers. The real fun comes from capturing wild monsters in their native habitats. As the player progresses, he or she can explore different regions, venture into secret habitats and discover more adventures. The game's race courses are filled with challenging obstacles that will test both the players' and monsters' skills in controlling speed, jumping ability, and reaction time. With enough courage, skill and practice, players can make it to the greatest race in the world, the "Super Cup." Using the Nintendo Wi-Fi connection, players can join up to three other trainers to compete in race tournaments or to capture new monsters on safari.
Latest activity
Edit