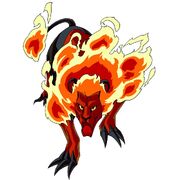 Blazen is the monster of the african champion Moses, one of the Star Seven. Blazen is a fire monster and is well-suited to running in fire. Normally Blazen is red, and its exotic form is white.
Handbook Data
Edit
Number

49

Weight

418.0lbs

Height

5'6"

Region

Attributes

Description

The flames burning all over their bodies scorch any who dare to stand in their way.
Statistics
Edit
The following ratings are from the Japanese Monster Racers wiki. All scores are out of a possible 5 stars.
Speed

☆ ☆ ☆ ½

Thrust

☆ ☆ ☆

Power

☆ ☆ ☆ ☆ ½

Spirit

☆ ☆ ☆
Starting Skills
Edit
Learned Skills
Edit
Starting Skills (Exotic)
Edit
Learned Skills (Exotic)
Edit